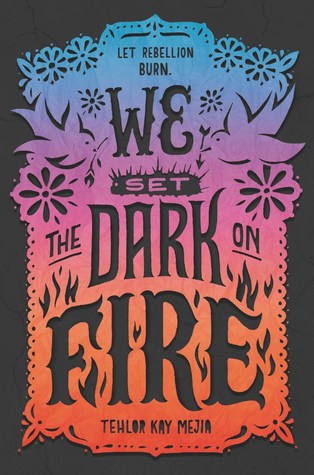 We Set the Dark on Fire by Tehlor Kay Mejia
My rating: 4 of 5 stars
At the Medio School for Girls, distinguished young women are trained for one of two roles in their polarized society. Depending on her specialization, a graduate will one day run a husband's household or raise his children. Both paths promise a life of comfort and luxury, far from the frequent political uprisings of the lower class.

Daniela Vargas is the school's top student, but her pedigree is a lie. She must keep the truth hidden or be sent back to the fringes of society.

And school couldn't prepare her for the difficult choices she must make after graduation, especially when she is asked to spy for a resistance group desperately fighting to bring equality to Medio.

Will Dani cling to the privilege her parents fought to win for her, or will she give up everything she's strived for in pursuit of a free Medio—and a chance at a forbidden love?
Warnings: allusions to police brutality and torture
A story about a girl rising in revolution in a patriarchal society, We Set the Dark on Fire can best be summed up in this line:
" While he was busy congratulating himself on it, Carmen shot Dani a look over her napkin. It almost looked . . . conspiratorial."
Daniela is an accomplished graduate from the Medio School for Girls, where girls are trained to be high society wives for the elites of Medio. The family structure of Medio embraces polygamy, with each man having two wives, one to be his partner, Primaera, and the other to be his childbearer, Segunda; this comes about from their mythology, which also vilifies people born outside their wall (which is totally an unsubtle contemporary metaphor) as cursed. Dani herself is a hidden refugee, and to live up to her parents' dreams, she becomes a Primaera to one of the most influential family's scion, while her school bully, Carmen, becomes her co-wife, or Segunda. However, the revolutionary La Voza come crashing into her life, trying to recruit her to be a spy.
The world-building of this book feels incomplete, but not so much so that you can't fill in yourself. However, there were times that the political roles and positions were unclear, so I couldn't understand what or who was powerful enough actually. However, Daniela's fight is not just about the politics, it is also personal – her husband, Mateo, is a horrible misogynist and despite her supposedly being his partner in all things, she is being condescended to by him constantly. That and her rage at the glimpses of the monster in him embolden her to join the revolution. Her romance with Carmen is borne out of a shared distate for their husband, as well as a companionship in their loneliness. I did feel though that it could have been better developed as the interactions between them felt too little or distant to develop the kind of affection between them.
Dani's a strong personality, trained to be a master reader and manipulator, so she doesn't take BS easily. She initially sees the revolutionaries' attempts to turn her and calls Sota (her main contact) out on it.
"I don't need you to tell me how impressive I am, or how well-suited to your task. I'm well aware of my own skills. You think you can see something in me first?"
Additionally, girl is resourceful and smart, and also compassionate when need be, in defiance of this society that forces her to choose to be one or the other. But I also think that at times it was too convenient for her to stumble onto things, like the elder Segunda's secrets, or Jasmin's confession, or even when she wasn't caught for blatantly spying; considering how indiscreet she was at times, I was waiting for the other shoe to drop. Overall, I feel there are certain aspects of the book that could have done with more work, but it is still a strong debut.
Rep: Queer Latinx rep (ownvoices), f/f romance
Received an advance reader copy in exchange for a fair review from Katherine Tegen Books, via Edelweiss.
Buy links