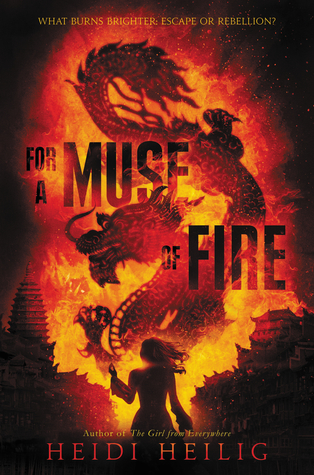 For a Muse of Fire by Heidi Heilig
My rating: 5 of 5 stars
Release date: September 25, 2018
Jetta's family is famed as the most talented troupe of shadow players in the land. With Jetta behind the scrim, their puppets seem to move without string or stick—a trade secret, they say. In truth, Jetta can see the souls of the recently departed and bind them to the puppets with her blood. But the old ways are forbidden ever since the colonial army conquered their country, so Jetta must never show, never tell. Her skill and fame are her family's way to earn a spot aboard the royal ship to Aquitan, where shadow plays are the latest rage, and where rumor has it the Mad King has a spring that cures his ills. Because seeing spirits is not the only thing that plagues Jetta. But as rebellion seethes and as Jetta meets a young smuggler, she will face truths and decisions that she never imagined—and safety will never seem so far away.
Warnings (as mentioned by author in book): Mental illness (bipolar), blood use in magic, gun violence, war, colonialism, racism, descriptions of dead bodies, mention of reproductive coercion, mentions of torture, mention of suicide
Heilig's latest novel brings out a necromancer's story in a fantasy world influenced by colonialism. Jetta is a part of a troupe of shadow players – an art that uses puppet shadows to play out a story – and with her necromancy talents, which are banned by the rulers by the way, she binds souls to puppets to make them move without strings. They are popular and looking for a way out of Chakrana (the colony of Aquitan and which is the Asian-like country) and into Aquitan (the kingdom across the Hundred Days sea, and which is standing in for France here) where she hopes to get a cure for illness (bipolar disorder is being mentioned as her malheur here) but it is getting difficult when they are revolutionary forces as well as a brewing civil war.
When I said I wanted diversity in genre fiction, this is what I was asking for. Jetta's story is very much influenced by her illness – her manic episodes make her the performer she is, but it also leads to rash decisions that have unfortunate consequences. Her depressive episodes, the one I related to, felt raw and realistic to experience. Along with this, Jetta being Chakran and her country bound to Aquitan as a colony is also something that Heilig brings out in the narrative – they are being told that the rebel forces are the enemy, and the Aquitans have done a good job of villainising the people against their own countrymen. It doesn't help that the previous ruler did not rein in the mysterious and powerful Le Trepas (a necromancer priest who built a cult around him) and the latter basically terrified the people enough that they fear to even speak his name.
A monster, out of legend, when he was still roaming free with death at the tips of his fingers.
The story is told mostly in Jetta's first person narrative, but occasionally cuts to letters, telegrams, folklore stories, playbills, and scenes in the form of a script, which is how we get an understanding of how the war is brewing in Chakrana, and what the Aquitan forces stationed there are trying to do. There are people who think they are doing good by 'taming' the culture of the Chakrana while there are others who basically want an excuse to go on a genocidal rampage. But there is another latent threat looming – Le Trepas and his cohort, who still hide in the court they once ruled. Jetta's mother is careful to keep her from that because of her powers, but ultimately, even the truth of what went on in the court and how it connects to their folklore.
And isn't it strange how the Aquitans devour our stories but silence our prayers?
A secondary character of interest is Leo, who is Aquitan-Chakran, and runs a theater and is in charge of a troupe of girls. There is a found family feeling to them, but I still didn't understand why he essentially leaves them to go with Jetta. Speaking of the girls, they are a nice bunch and I hope to see more of them in the sequel, especially Tia (who is trans) and Cheeky. Other characters of note are the Chakran prince, who has more going on that initially thought, and Theodora, who is basically an engineer.
"Oh! Cheeky." Leo smothers his smile as he turns to her. "Didn't hear you coming."
"Never will, with an attitude like that."
Basically, it is a powerful story of a simple girl with a big power and how she and the world she is in affect each other's stories. The writing is good, emotional, and rooted in realism, even with such a fantasy concept.
Received an advance reader copy in exchange for a fair review from Greenwillow Books, via Edelweiss.
Is it diverse? As mentioned the protagonist is a WOC who has bipolar disorder (own voices). Additionally, the love interest is biracial; majority of the supporting characters are POC, and there is a trans girl.
Buy links