I found this tag on Pay Me In Tea, and it was created by Margaret @ Weird Zeal. With this being the week that Harry Potter and the Philosopher's Stone celebrating its book birthday, I thought it would be apt to finally use this tag!
1: What house are you in?
I used to think I was a Ravenclaw for the longest time, but when I did the test on Pottermore, I got Hufflepuff.
2: What is your patronus?
According to Pottermore (again), I got a Hedgehog.
3: What is your wand?
BlackWalnut wood with a Unicorn core hair 13 ¾" and Unyielding flexibility
4: What would your boggart be?
Okay, among things that are not abstract, it would probably be a snake? Among things that are abstract, maybe a pile of books that is just about to fall on me?
5: What position would you play in Quidditch?
I keep my feet firmly planted on the ground because I am afraid of heights.
6: Would you be a pure blood, half blood, or muggle born?
Muggleborn, I guess?
7: What job would you want to have after graduating Hogwarts?
Maybe something similar to what the Weasley twins do – developing new ways to create bespelled objects.
8: Which of the Deathly Hallows would you choose?
The cloak. Very handy!
9: Favourite book?
From this series? Goblet of Fire
10: Least favourite book?
Maybe Half-Blood Prince?
11: Favourite film?
Prisoner of Azkaban

12: Least favourite film?
Goblet of Fire
13: Favourite character?
Hermione Granger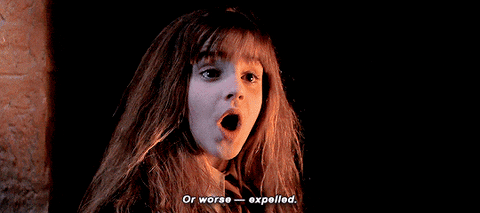 14: Least favourite/most hated character?
It's a toss-up between Voldemort and Umbridge.
15: Favorite teacher at Hogwarts?
Minerva McGonagall – the baddest badass witch in town
16: Least favourite teacher at Hogwarts?
Severus still-wailing-about-friendzone Snape
17: Do you have any unpopular opinions about the series?
Snape's redemption arc – like, he is a morally ambiguous character but him doing one good thing doesn't erase all the shitty things he was a part of. And JKR giving him that, plus Harry naming his kid after him? Ugh
WHAT WAS UP WITH THOSE KID NAMES? NAME ONE AFTER RUBEUS HAGRID, INSTEAD, YOU MORON. HE WAS THE ONLY ONE WHO TRULY HAD YOUR BEST INTERESTS AT HEART, HARRY!
The whole Slytherin is Evil stigma. I know, it was an MG series and things tend to be more straightforward and black and white, but what was up with demonizing the whole House later in Deathly Hallows, huh?
One book gimmicks used throughout. Like, the Time Turner? Never really brought up again.
ALL THE FAILED CHANCES AT QUEER REP!
18: If you could save one character from the finale battle who would you save?
Remus and Tonks. Like, I get they were being noble or whatever, but both of them leaving their infant child to be orphaned was kind of a dick move.
---
As always, feel free to tag yourself. Please remember to credit the creator and link to me! I would love to see your answers, too!