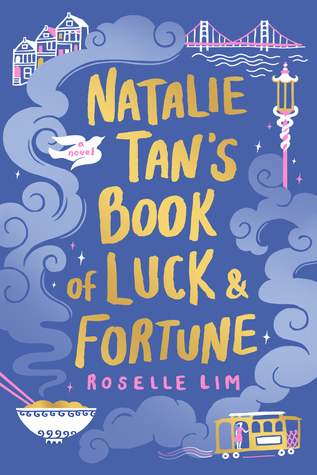 Natalie Tan's Book of Luck and Fortune by Roselle Lim
My rating: 4 of 5 stars
At the news of her mother's death, Natalie Tan returns home. The two women hadn't spoken since Natalie left in anger seven years ago, when her mother refused to support her chosen career as a chef. Natalie is shocked to discover the vibrant neighborhood of San Francisco's Chinatown that she remembers from her childhood is fading, with businesses failing and families moving out. She's even more surprised to learn she has inherited her grandmother's restaurant.

The neighborhood seer reads the restaurant's fortune in the leaves: Natalie must cook three recipes from her grandmother's cookbook to aid her struggling neighbors before the restaurant will succeed. Unfortunately, Natalie has no desire to help them try to turn things around–she resents the local shopkeepers for leaving her alone to take care of her agoraphobic mother when she was growing up. But with the support of a surprising new friend and a budding romance, Natalie starts to realize that maybe her neighbors really have been there for her all along.
Warnings: death of family member, grief
Note: while this is not a YA book, it is okay for teen audiences too.
Natalie Tan's journey to realize her dreams and put down roots is a tale touched with magic, good food, and family. This book is bright and warm in tone, as it describes her story from coming back after her mother's death to fulfilling her family legacy. Natalie had a difficult childhood, and an even more difficult relationship with her mother, who was agoraphobic, and didn't want her to follow in her grandmother's footsteps and become a chef. Now, back in her house and back in her community, Natalie feels the guilt and the urge to help her fading Chinatown from gentrification, and she is being guided by a divination, and her grandmother's recipe book.
What Natalie thinks is simple, turns out to be much more complicated in nature: the recipes are effective, sure, but has she really identified the problem? She is also feeling nervous about whether she can cook as well as her grandmother, whose recipes healed and soothed the people around her? But she is also optimistic and ready to put in the work, and slowly as she gets to know her neighbors, realizes that she had a bad image of them when she left. The building of her relationship with them is one of the highlights of the book, as she finds a family in them. I also loved the subtle magic given to the cooking in the book, or the divination – it truly felt beautiful in the way they were described, infusing wonder in them. The romance, meanwhile, was underdeveloped and jumped ahead, considering the length of their acquaintance; I didn't really feel invested in it.
And finally, one thing that I wanted to talk about regarding the book was the theme of filial piety. The book talks to the reader as introducing them to Chinese culture: the cooking, of course, but also the traditions. Now, Natalie had left her mother because she wasn't happy in her home, and on coming back, that guilt stays with her for quite some time; another neighbor even holds her leaving against her. And I get that Asian societies place more importance on family and community, not individualism, but Natalie's path and her ending depended on her taking the latter route. Her leaving was a good thing for her, because she sees the world, has experiences, gets to know what she wants, learns her own style of cooking – yet it is treated throughout the book as a Very Bad Thing she did; instead her choice is made more to be her duty to her family and stuff.
Overall, it is a delightful book about food, family and the magic in the little things.
Is it diverse? OwnVoices Chinese rep; mental health rep (agoraphobia, secondary)
Received an advance reader copy in exchange for a fair review from Berkley Books, via Edelweiss.
Buy links

Released on June 11, 2019