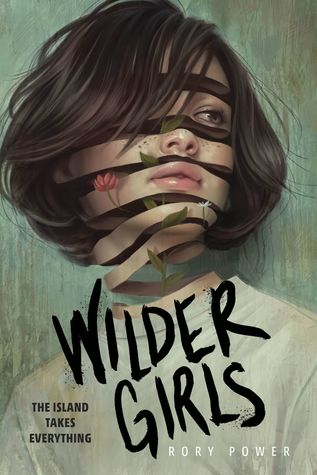 Wilder Girls by Rory Power
My rating: 4 of 5 stars
It's been eighteen months since the Raxter School for Girls was put under quarantine. Since the Tox hit and pulled Hetty's life out from under her.

It started slow. First the teachers died one by one. Then it began to infect the students, turning their bodies strange and foreign. Now, cut off from the rest of the world and left to fend for themselves on their island home, the girls don't dare wander outside the school's fence, where the Tox has made the woods wild and dangerous. They wait for the cure they were promised as the Tox seeps into everything.

But when Byatt goes missing, Hetty will do anything to find her, even if it means breaking quarantine and braving the horrors that lie beyond the fence. And when she does, Hetty learns that there's more to their story, to their life at Raxter, than she could have ever thought true.
Warnings: graphic violence, body horror and gore, on page character death, parental death, animal death, mentions of self-harm, suicide and suicidal ideation, food scarcity and starvation, vomiting, scene depicting chemical gassing, attempts to poison, non-consensual medical treatment and human experimentation
Wilder Girls is a horror novel with a mysterious disease scenario trapping a school of girls on their isolated island for quarantine measures. The disease has been with them for a year and a half, and while they get supplies from the nearby navy base, they are living in survival mode. There aren't many rules, but one they adhere by is not go out of their school fence unless they are part of the group that goes to receive supplies. The disease takes many of them, but also changes each one of them in cycles of flares that leave them with a new spine or some extra organs. When Byatt comes down in a serious flare and is taken away, Hetty throws caution to the wind to recover her, and thus comes across the truth of the disease plaguing them.
"It's like that, with all of us here. Sick, strange, and we don't know why. Things bursting out of us, bits missing and pieces sloughing off, and then we harden and smooth over."
While the story is narrated by both Byatt and Hetty, the former's is a limited perspective and she is as mysterious a figure to us as she is to Hetty. Hetty, meanwhile, has a way of looking at the scenario that simultaneously invokes awe and fear. Byatt looks at the beauty of the weirdness this contagion has wreaked on them all, but her perspective also serves to give us more insight into the nature of the operation being conducted; Hetty, however, is chasing the mystery for most of the book, and pieces things together by the end.
"A sparking. I know this feeling. Just before a flare-up, there's a moment. Hard to describe, hard to pin down, but for me it almost makes it worth it. The pain and the loss, all of it a fair price for this. This strength, this power, this eagerness to bare my teeth."
Through them, we see the island as a living thing, a threat turned on them after the outbreak, their 'wilder' natures mirroring the wildness of the forests around them. The atmosphere that the writing creates is so well done – you can feel the terror of the unknown outside, the ferocious existence wreaked out of a dire situation, and the feral nature that is their enemy. It is brutal, and doesn't show much kindness to its characters, which is why the relationships portrayed are such precarious things; this is a world in which terrible choices have to be made, and loving someone is a sure way to get your heart broken.
"Some days it's fine. Others it nearly breaks me. The emptiness of the horizon, and the hunger in my body, and how will we ever survive this if we can't survive each other?"
As for the science aspect of the novel (because this is also SciFi and I am a science person, I have to speak on it), I wasn't really convinced. I won't spoil it, but it doesn't fit with how these things work and how it would spread. Even with the allowances made for it being so unknown. Also, there are hormonal aspects that don't make sense when you look at it as a big picture. Additionally, I felt there were some things that were never clarified, like what did Hetty say in her sleep (or was Byatt lying?), why Reese commented on Byatt's personality, and where were those people evacuated to. The open ending, however, gives me hope that there might be a continuation to this story (because I need it!)
Is it diverse? Queer (bisexual) main character and secondary characters, WOC secondary characters, wlw romance
Received an advance reader copy in exchange for a fair review from Delacorte Press, via Netgalley.
Buy links

Releases on July 9, 2019