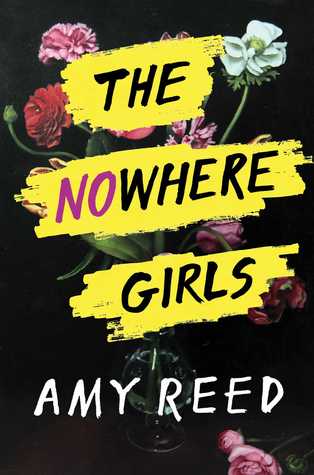 The Nowhere Girls by Amy Reed
My rating: 4.5 of 5 stars
Who are the Nowhere Girls?

They're everygirl. But they start with just three:

Grace Salter is the new girl in town, whose family was run out of their former community after her southern Baptist preacher mom turned into a radical liberal after falling off a horse and bumping her head.

Rosina Suarez is the queer punk girl in a conservative Mexican immigrant family, who dreams of a life playing music instead of babysitting her gaggle of cousins and waitressing at her uncle's restaurant.

Erin Delillo is obsessed with two things: marine biology and Star Trek: The Next Generation, but they aren't enough to distract her from her suspicion that she may in fact be an android.

When Grace learns that Lucy Moynihan, the former occupant of her new home, was run out of town for having accused the popular guys at school of gang rape, she's incensed that Lucy never had justice. For their own personal reasons, Rosina and Erin feel equally deeply about Lucy's tragedy, so they form an anonymous group of girls at Prescott High to resist the sexist culture at their school, which includes boycotting sex of any kind with the male students.
Warnings: on-page sexual assault (rape, molestation), abuse (parental, partner), panic attacks, PTSD, misgendering, transmisic and homophobic comments, misogynistic language,
The Nowhere Girls is a take on the culture of violence against women, and the rape culture that enables it, and it is a hard book to read because of the issues but it is also a hopeful one. Mostly narrated by the three main characters (the ones who founded the Nowhere Girls), but also by the other secondary or unnamed girls in the town, the story takes us through a movement the girls create to get justice for a girl who was driven out of town for accusing three football players of raping her, as well as to enact change in the attitude of their small town, to help girls realize that what is happening to them is wrong, and how they aren't to blame for it happening to them.
The chapters are denoted by one of the main characters as they have their personal arc, but also through the voices of all the girls in the town titled as 'US' chapters. What I liked most about the addition of the US chapters is that it gave a voice to the several unnamed girls in the town (some of which we later recognize as we get to know them) and describes their pain, their desires, and their thoughts regarding this movement. Not all the girls are, of course, involved in the movement; some think going on a sex strike won't achieve anything, or that they don't have a place in this collective, some think why are they punishing themselves by abstaining, while some have bought into internalized misogyny. There are also occasional 'posts' made by an anonymous meninist blogger of their town, who gives out tips on how to prey on women. The ending is, well, satisfying, but also reminds us how bleak the situation is regarding sexual assault convictions.
The tone of the book is harsh, but also optimistic. The girls believe they can create change, but they are also being thwarted at every step. There is pressure from the authorities, from their own teachers and principal, from the boys who are bullying them, but they also realize that standing together is the best way to stay strong. In between the girls, too, solidarity develops into closer friendships, and when it comes to make a marked effect, they are willing to put their lives on the line. Grace is trying to be as inspirational as her pastor mother, and this movement is her way to affect change; she comes from an ultra-conservative town and initially she was nervous about a new place, but seeing Lucy's writing in her bedroom awakens a rage within her. The rage is also stronger in Rosina, a queer Mexican girl who feels terrible that she couldn't do anything to help Lucy. And Erin – she is coming to terms with her own sexual assault that she never processed; her autism is discussed in the context of it, and also without. I did feel that there was still a disconnect while reading the girls, but that maybe because of the third person narrative employed. It still, however, manages to balance the POV of the girls, with the overall plot and POV of other characters, and keeps the plot tight and engaging.
Verdict: A book that discusses issues like rape culture and misogyny in realistic modern terms well; it is also a book that I would caution discretion when picking up, regarding the triggering content.
Is it diverse? queer WOC rep, autistic rep, and fat rep in main characters, secondary queer characters
Received an advance reader copy in exchange for a fair review from Simon Pulse, via Edelweiss.
Buy links