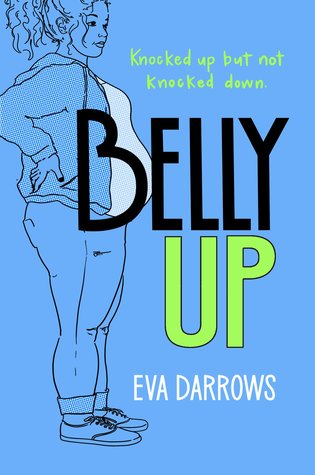 Belly Up by Eva Darrows
My rating: 4 of 5 stars
When 16 year old Serendipity Rodriguez attends a house party to celebrate the end of sophomore year, she has no intention of getting drunk and hooking up with a guy she's just met, let alone getting pregnant. To make matters worse, she has no way of contacting the father and she and her mother are about to move to a new town and in with her grandmother.

It's hard enough to start your junior year as the new kid in school, but at 5-months pregnant it's even harder. So when Sara meets Leaf, who asks her out and doesn't seem to care that she's pregnant, she finds herself falling.

Juggling the realities of a pregnancy with school and a new relationship are hard enough, but when Jack, the father of her baby, turns back up, Sara's life goes from complicated to a complete mess. With the help of her overbearing mother and grandmother, Sara will learn to navigate life's challenges and be ready for anything, as she prepares for the birth of her baby.
Warnings: discussion of racial microaggressions, labor, mention of domestic abuse, dubious consent
A light-hearted novel about a pregnant teen adjusting to a new change in her life, Belly Up has an entertaining narrator in the form of Sara. Sara has a deviation in her life plan in the form of an unintended pregnancy, and the book is about her growing into her new life. The tone of the book is more like 'OMG what is this new facet of pregnancy' and also has a family aspect much like 'One Day at a Time' (Okay, I know a lot of peeps are saying it has a Gilmore Girls vibe but I only ever saw one episode of that show, so I am making comparison with something I am familiar with). A big part of Sara's adjustment to this new situations and the difficulties of pregnancies at such a young age is the big support system she has – her supportive mom, her scary (but prickly kind) grandmother, her best friend/wifey, her super-sweet new boyfriend, as well as a helpful school staff. There are challenges for Sara, yes, but the general message is that she can overcome those with the help of those around her.
Besides the main theme of pregnancy, and the grueling months of gestation that Sara has to go through (which is explained in detail, with all the gross and wonderful aspects in between), the story also gives weight to the characters' life experiences. Sara discusses her identity through the lens of being white-passing Hispanic, through a questioning (bisexual) teen, and there's also discussion and delving of Leaf's Romani heritage, and his customs. Devi's addition is also great because she is a super-supportive and loyal best friend, whose presence lights up the bond between them as they affectionately call each other wifey; I feel her being grey-ace also allowed Sara to recognize Leaf being demi (because you know she researched upon it when Devi told her). Additionally, there was discussion about assigned gender and stuff, which is brought up by Morgan, one of Leaf's best friends. I felt the book gave good weight to how a Gen Z teen would consider these issues, and it reflects in their choices and interactions.
As for the interactions between the characters, it is subtly hilarious and light. The dialogue is very fresh and organic, and reflects their age well. Devi and Sara have a close bond, and they have a no-drama friendship going on, with them being supportive of each other. Sara and her mother (Astrid) have this wonderful dynamic where the latter is able to be a parent as well as a friend, and Astrid taking care of her daughter as well as eternally ready to stand up for her, even with her mother, was wonderful. Speaking of the grandmother, she was also hella interesting in that she means well, but she also has a prickly personality and occasional bouts of immaturity, but a rock when needed. Morgan and Erin are sweet, and they could have been more present, but I loved how they readily accepted Sara and also had conversations about their identities. Finally, Leaf – an adorable book boyfriend who is quite mature, yet friendly and he COOKS! Like, this dude is a GD gift! I loved how their romance was mostly no-drama and even with Jack's presence, it didn't rush to a predictable trope.
There are numerous times in which Sara makes you laugh with how she approaches her pregnancy with dry and at time, self-deprecating humor; sorta like this:
"Mom answered the call of the wild— aka my needy kid growling inside of my stomach— with the golden arches."
Finally, I would say that while this is a low-drama, low-conflict book, it is an amazing character-driven story that shows how supporting someone can help them thrive.
Is it diverse? Biracial, questioning fat main character; jewish grey-ace secondary character; fat demisexual Romani love interest; secondary sapphic couple with one of them being a trans girl
Received an advance reader copy in exchange for a fair review from Inkyard Press, via Netgalley.
Also by Eva Darrows
Buy links

Releases on April 30, 2019