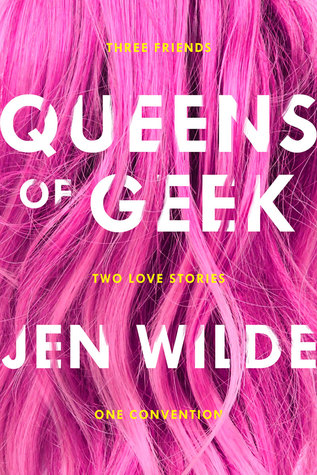 Queens of Geek by Jen Wilde
My rating: 4 of 5 stars
Charlie likes to stand out. She's a vlogger and actress promoting her first movie at SupaCon, and this is her chance to show fans she's over her public breakup with co-star Reese Ryan. When internet-famous cool-girl actress Alyssa Huntington arrives as a surprise guest, it seems Charlie's long-time crush on her isn't as one-sided as she thought.

Taylor likes to blend in. Her brain is wired differently, making her fear change. And there's one thing in her life she knows will never change: her friendship with her best guy friend Jamie—no matter how much she may secretly want it to. But when she hears about a fan contest for her favorite fandom, she starts to rethink her rules on playing it safe.
Warnings: fatmisia, anxiety attacks
Queens of Geek is a celebration of fandom and takes place at a con, from the POV of Taylor and Charlie. Charlie is promoting her latest movie at the con, while Taylor and Jamie (her best friends) are both joining along; for all three of them, it is the first con they are attending. Taylor is nervous about how she will handle the crowds, about meeting her favorite author, about confronting her worries where the future will take the three of them. Charlie, meanwhile is trying to shake free of the relationship that she has let go of, but her fans are still hoping for them to get together. It doesn't help that her ex was also her co-star and they are both at the con for the movie promotion, thereby making it so that Charlie has to walk a tightrope between being not distancing her fans, but also not feeding rumors that they are together. And more importantly, she meets her hero, Alyssa, who also reciprocates her feelings, but she is afraid of the public eye ruining their relationship.
The story tackles the personal conflicts of Taylor and Charlie over the con, and shows them coming out more confident of themselves at the other end. It mostly has a lighter tone, with a focus on the amazing aspects of fandom community, how it is a place to build connections, to find belonging, but it also doesn't shy away from the challenges these young women face, whether it be that Taylor is underestimated because she is fat, or that she has anxiety attacks due to sensory issues, or Charlie trying to distance herself from the relationship that defined her image in the public, the microaggressions she faces as a bisexual girl. The romances in this were adorable, and sweet, but I have to say that Charlie/Alyssa was a bit insta-love, while Taylor/Jamie had a bedrock of friendship and flirting to build on.
Overall, though, it is quick cute read.
"Up until now, I've done whatever I can to be normal and avoid leaving my comfort zone. But I'm starting to see that if you surround yourself with like-minded people, people who support you, then that comfort zone gets bigger and bigger."
Is it diverse? OwnVoices autistic rep; Bisexual (OV) and Chinese rep, both love interests are PoC
Buy links