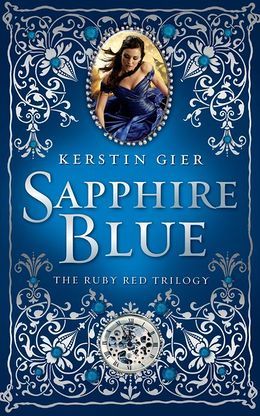 Sapphire Blue by Kerstin Gier
My rating: 4 of 5 stars
Gwen's life has been a rollercoaster since she discovered she was the Ruby, the final member of the secret time-traveling Circle of Twelve. In between searching through history for the other time-travelers and asking for a bit of their blood (gross!), she's been trying to figure out what all the mysteries and prophecies surrounding the Circle really mean.

At least Gwen has plenty of help. Her best friend Lesley follows every lead diligently on the Internet. James the ghost teaches Gwen how to fit in at an eighteenth century party. And Xemerius, the gargoyle demon who has been following Gwen since he caught her kissing Gideon in a church, offers advice on everything. Oh, yes. And of course there is Gideon, the Diamond. One minute he's very warm indeed; the next he's freezing cold. Gwen's not sure what's going on there, but she's pretty much destined to find out.
Warnings: gun violence, physical violence, sexual assault (groping)
While Ruby Red was like an intro to the world of the secret society of time-travelers, Sapphire Blue has Gwyneth starting to delve into why Lucy and Paul absconded with the first chronograph. In the Lodge, she still doesn't have agency, but she finds ways to get what she needs. She is being underestimated by the members – and being bullied by a tutor and her cousin for not knowing things (which, considering she was never taught all that history and stuff and was deliberately kept from it, is NOT HER FAULT!), and even Gideon is yo-yo-ing between affection and suspicion (honestly, at one point I considered the theory that the Count is able to possess him or something).
The time travel part is interesting, with multiple loops in play, as is the addition of another character, a gargoyle named Xemerius, who is a fountain of info. Gwen is also entertaining as ever, being the sassy little comedian she is, having hilarious internal monologues and asides, as well as her quick thinking whenever she is in a spot of trouble. The romance – well, it is barely developed, and by the end we know why; that's all I am going to say. One thing I didn't get is why the Count revealed his plan to Gwen near the ending, considering he still wants her on his side; it seemed OOC for him to do that. Overall, though, a charming and entertaining sequel, narrated brilliantly.
Previous book in the Precious Stones trilogy
Buy links