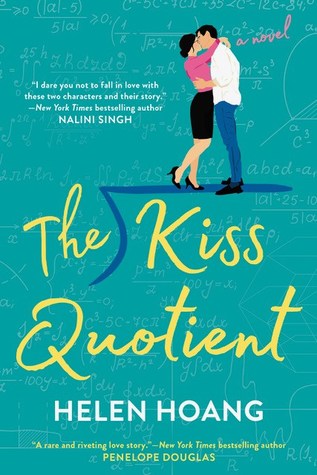 The Kiss Quotient by Helen Hoang
My rating: 4 of 5 stars
Stella Lane thinks math is the only thing that unites the universe. She comes up with algorithms to predict customer purchases — a job that has given her more money than she knows what to do with, and way less experience in the dating department than the average thirty-year-old.

It doesn't help that Stella has Asperger's and French kissing reminds her of a shark getting its teeth cleaned by pilot fish. Her conclusion: she needs lots of practice — with a professional. Which is why she hires escort Michael Phan. The Vietnamese and Swedish stunner can't afford to turn down Stella's offer, and agrees to help her check off all the boxes on her lesson plan — from foreplay to more-than-missionary position…

Before long, Stella not only learns to appreciate his kisses, but to crave all the other things he's making her feel. Soon, their no-nonsense partnership starts making a strange kind of sense. And the pattern that emerges will convince Stella that love is the best kind of logic…
Warnings: sexual assault (forced kissing), anxiety, graphic sex scenes
Note: Not a YA novel
When I picked up this book, it was pretty much well-liked everywhere, and I must say – it lived up to its hype. The book was so good I pretty much read it in one sitting; I think I read the first half non-stop and then came up for some air and water. In a fake dating trope scenario, Stella asks Michael to be her sex and dating coach, but they soon fall in love with each other. The main obstacles are their respective insecurities – hers being that she is autistic, and his about his sex work and the fact that she is rich and successful and he is not. The book develops their relationship so well, from their compatible companionship and understanding to their sizzling hot relationship in bed.
Stella is an amazing protagonist – kind, and emotional, logical and pragmatic, but also awkward with people. She tries hard to fit in with allistic people and her character development is to do with acknowledging that she doesn't have to fix herself for that. Michael is also so adorable and sexy – he is gentle and empathetic, and has respect for women; he has problems with possessiveness, though. Michael's character development, however, is more extrinsic in that he finally can breathe when his problems are resolved, and intrinsically, it is more about having the self-confidence to not get intimidated by her success, or feel like he has nothing to offer her. They take so long to acknowledge their feelings for each other, its like a 'just admit it already gawd!' kind of tension. Oh, and there are some super hot sex scenes in this one, so you are warned if you are about to read this book in public *wink*
For a person who is not a fan of romance-centered novels, I sure loved this book a lot and that's the best way of me saying – go read it! Also, I can't wait to read the next one, The Bride Test, with Khai (Michael's cousin) as the main character.
Is it diverse? OwnVoices autistic rep in Stella, and biracial (Vietnamese-Swedish) rep in Michael, plus other Vietnamese secondary characters.
Buy links