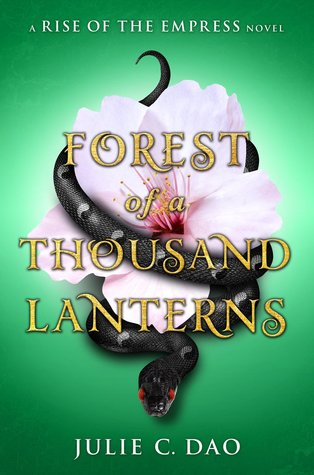 Forest of a Thousand Lanterns by Julie C. Dao
My rating: 4 of 5 stars
Eighteen-year-old Xifeng is beautiful. The stars say she is destined for greatness, that she is meant to be Empress of Feng Lu. But only if she embraces the darkness within her. Growing up as a peasant in a forgotten village on the edge of the map, Xifeng longs to fulfill the destiny promised to her by her cruel aunt, the witch Guma, who has read the cards and seen glimmers of Xifeng's majestic future. But is the price of the throne too high?

Because in order to achieve greatness, she must spurn the young man who loves her and exploit the callous magic that runs through her veins–sorcery fueled by eating the hearts of the recently killed. For the god who has sent her on this journey will not be satisfied until his power is absolute.
Warnings: child abuse, animal sacrifice, homicide
Fores of a Thousand Lanterns is a beautifully written story about an ambitious girl who gets in too deep when she plays with dark forces. Ever since she was a kid, Xifeng was told by her guardian and aunt, Guma, that she was destined to be the Empress, and so was raised accordingly. The harsh treatment and abusive childhood made her want to finally be in a position she isn't powerless anymore, and Xifeng finally sets out to meet her destiny when she has had enough. Her path to the throne is lined with her clever manipulations, her subtle subterfuge, as well as the magic running in her veins that helps keep her beauty.
Xifeng's story is that of a villian, sure, but also a relatable one. For her, she is the master of her own story, and to meet her destiny, she will take whatever steps are necessary. She grows close to the old Empress (whose second husband is the current Empress) as a means of protection from the concubine who seeks to bully her; eventually, though, she has to struggle between the daughterly feelings she has towards the Empress and her ambition. Also, Xifeng is convinced that there is a 'Fool' who is supposed to obstruct her path, leading her to paranoia over this unknown entity that will be her doom. XIfeng's tale is a tragic one, sure, and a lot of it is about how she was brought up, but the story only justifies, not excuses her actions – she still choses to do those terrible things, because she wants glory and power over a happy but simple life. Her deeds are to reach a place where she isn't under the power of someone else, and the surest way for that is for her to be Empress.
The magic in this world is not a prominent part, but it does drive the plot. While Xifeng has power in her veins, she seeks to get a power independent from that of a god or a king. The characters and their relationships was one thing that was well done in the book, though it does suffer from the tragic trope of 'women being jealous of other women for no good reason'. The pace is probably where this book suffers, too; it feels long-drawn and not that impactful when it came to certain events.
On the whole, though, I loved the author's take on the Evil Queen legend, bringing in subtle allusions to the original story while also keeping the Asian setting. Additionally, it has a wonderful narrator who brings the story alive.
Is it diverse? It is a retelling in an Asian setting written by an Asian diaspora author.
Buy links