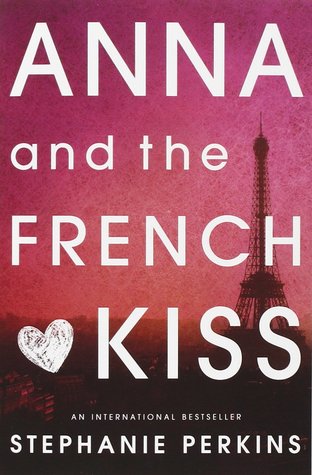 Anna and the French Kiss by Stephanie Perkins
My rating: 3.5 of 5 stars
Can Anna find love in the City of Light?

Anna is happy in Atlanta. She has a loyal best friend and a crush on her coworker at the movie theater, who is just starting to return her affection. So she's less than thrilled when her father decides to send her to a boarding school in Paris for her senior year.

But despite not speaking a word of French, Anna meets some cool new people, including the handsome Étienne St. Clair, who quickly becomes her best friend. Unfortunately, he's taken —and Anna might be, too. Will a year of romantic near misses end with the French kiss she's waiting for?
Warnings: slut-shaming, use of a homophobic slur
This book has been on my TBR and my physical shelves for quite some time (measured in years) so there was already hype surrounding the book. And as a romance it does live up to the hype! Anna's story of being suddenly expected to uproot her life and spend a year abroad in a country where she doesn't know the language, the homesickness that comes along with it, the insecurities, the expected romance of being in the city of love (and film appreciation), and the search for your 'home' in all of this will certainly resonate with many readers. I particularly loved Anna as a narrator, for the most part, because she brings Paris alive in a new way. Her friends-to-best-friends-to-lovers arc with Etienne is also sweet and adorable, and I loved how the relationship developed.
However, I must say that the last third of the book sort of ruined the fun for me. Like, until then I was happy with the book – Anna and Etienne had this will-they-won't-they dynamic going on, but it was mostly drama-free. But the last third? Whew – things got dramatic super quick. And I was waiting for it to be worth it, you know – Anna's instinctive dislike of every girl she meets (including Mer and Rashmi, the former for which she regains a little of that hate later on when they are fighting over Etienne), the whole glossing over the fact that Etienne was cheating on his girlfriend by acting on his feelings when he was trying to feel out Anna's feelings (not cool, man, especially over 9 months), and the unnecessary drama of Mer blaming Anna (Etienne was her friend too!), but the ending was not really worth it? I mean, it is still a sweet romance novel, and a well-written book with perfect pacing, but I am just not happy with a cheating arc in a book, that isn't even explained properly.
Buy links