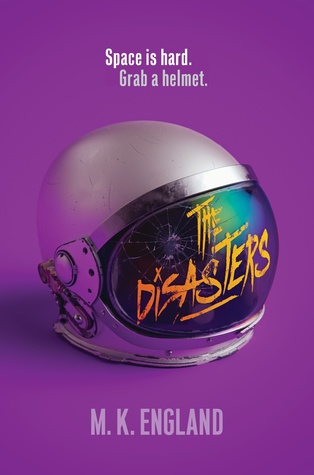 The Disasters by M.K. England
My rating: 4 of 5 stars
Hotshot pilot Nax Hall has a history of making poor life choices. So it's not exactly a surprise when he's kicked out of the elite Ellis Station Academy in less than twenty-four hours.

But Nax's one-way trip back to Earth is cut short when a terrorist group attacks the Academy. Nax and three other washouts escape—barely—but they're also the sole witnesses to the biggest crime in the history of space colonization. And the perfect scapegoats.

On the run and framed for atrocities they didn't commit, Nax and his fellow failures execute a dangerous heist to spread the truth about what happened at the Academy.

They may not be "Academy material," and they may not get along, but they're the only ones left to step up and fight.
Warnings: mention of transmisia, panic attack, PTSD
The Disasters lives up to its cover – delivering a light, action-packed adventure of a crew of outcasts from an elite Academy that manage to save the entire galaxy. (Insert obligatory "Guardians of the Galaxy" reference here) Nax, an impulsive, daredevil pilot has to steer his group of Academy washouts through the galaxy on stolen ships, while also hiding his past antics, and hoping to make up for them. The four of them are sole survivors and witnesses to the attack, and with the help of another planet's resident, Asra, they all together evade a squadron on their heels, jump through hyperspace, carry out rescues and heists, and all while they have been branded as fugitives.
"I've never paid a bill in my life—now I'm supposed to negotiate getting our ship illegally stripped?"
The camaraderie between the characters is one of the highlights of the book, along with the breathtaking action; they have a found family like arc, because they have been banded together by their common fate. I expected more conflict in the start because of their differing natures, but they get along soon enough. Nax's love triangle with Rion and Case also make an interesting tangent, but is only given enough attention as the plot requires. He is also an entertaining POV character, with his frequent jokes and wide-eyed enthusiasm for all things aeronautical. Character backstories seem limited, though, with only Nax's actually given any weight, while the others usually only have a passing paragraph about them.
Finally, the world-building – it makes up an interesting world that has had only a century-old history of space colonization, but also distinct cultures and settings on different planets still retaining the identity from Earth. What I didn't entirely feel was properly constructed was the Earth First group – their motives were clear, but I don't see how genocide was their solution and how they were going to proceed with that in the future; they were also mostly a faceless entity so the gravity(ha!) of their presence felt inorganic. Also, I wish we got to see a bubble planet (the ones that have domes as opposed to the naturally habitable or terraformed) in this book, and since it looks to be a standalone from its well-resolved ending, looks like it wasn't meant to be. However, I do feel, with the few open threads there is potential for more story – one which I would wholeheartedly welcome.
Is it diverse? Main character is Pakistani-American (as is his brother), and bisexual. Among the secondary characters, there is a character who is Muslim and wears a hijab, a trans woman character, a gay black character, and a WOC character who has anxiety and panic attacks. Additionally, one of the planet colonies they visit is heavily South East Asian.
Received an advance reader copy in exchange for a fair review from Harper Collins, via Edelweiss.
Buy links

Amazon | The Book Depository | Wordery

Releases on December 18, 2018