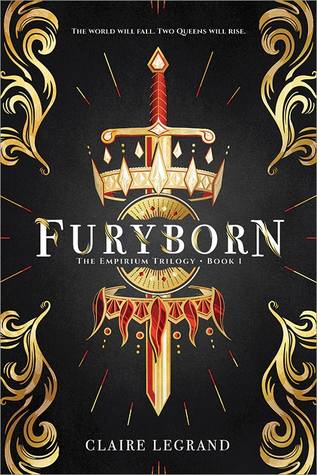 Furyborn by Claire Legrand
My rating: 4 of 5 stars
When assassins ambush her best friend, Rielle Dardenne risks everything to save him, exposing herself as one of a pair of prophesied queens: a queen of light, and a queen of blood. To prove she is the Sun Queen, Rielle must endure seven elemental magic trials. If she fails, she will be executed…unless the trials kill her first.

One thousand years later, the legend of Queen Rielle is a fairy tale to Eliana Ferracora. A bounty hunter for the Undying Empire, Eliana believes herself untouchable–until her mother vanishes. To find her, Eliana joins a rebel captain and discovers that the evil at the empire's heart is more terrible than she ever imagined.

As Rielle and Eliana fight in a cosmic war that spans millennia, their stories intersect, and the shocking connections between them ultimately determine the fate of their world–and of each other.
Warnings: violence (assault, homicide, gun violence), mentions of torture, sexual slavery, kidnapping, unethical human experimentation
Furyborn builds a story that spans a thousand years in the form of two Queens who are part of a prophecy – one who is meant to destroy and one who is meant to save. Rielle and Eliana are living in two separate worlds. Rielle is the Celdarian General's daughter and lives in a time where magic exists and the threat of angels is a distant memory but still believed. Also, they have a religion based on the seven saints who were said to have defeated the angels. Eliana is basically a Venteran bounty hunter working for the Undying Empire, the 1000-year later version of Celdaria that has invaded every other kingdom save for one, and is a world where magic isn't believed to be real, and the saints just stories. Now, these two stories are linked first only by the prologue, and Rielle's story is the BEFORE part of the prologue and Eliana's the AFTER.
Because the world-building of the two parts are different in nature, there are some aspects of the book as a whole that are done well, and some not. Rielle's story was the more compelling one for me, as it had a straightforward and defined plot, with her undergoing trials to prove her control over the seven elementary magics, while there are forces trying to undermine her rise; this was surprising more so because her story's ending is already exposed from the start. Also, her story is all about repression of her desires, whether it be for freedom, respect or for the beautiful Crown Prince Audric, who is also her childhood best friend. While not overtly, her story also hints at misogyny being wielded against her in an allegorical fashion. The villain of her story (and also the whole series, but he was her villain first) is interesting, because there is that Darkling vibe to it, and obvious hints that he is going to be her downfall.
Meanwhile, Eliana's story is sort of aimless – her mother is kidnapped and she reluctantly joins the rebels, but then they are just hopping from city to city, instead to heading straight to where they need to go? (It is explained through Simon later, but that still doesn't excuse a directionless plot). She also has a more Celaena Sardothien in Heir of Fire vibe. Also, Eliana's world-building was rudimentary compared to that of Rielle's – and even keeping it for suspense sake was pointless because there are obvious clues and the presence of Simon, so I don't really know what the intent was in the way the former's story was charted out. It also felt more like it was only building her story up for the next book? If they were independent stories, I would say Eliana's arc in this is incomplete. Together, Rielle's story arc only points out the shortcomings of Eliana's, but on the whole there is a nice parallel of two women who are about to have a heck of a burden placed on them.
Lastly, the secondary characters – there are some amazing characters like Ludivine, Corien, Remy but some like Audric, Simon, Navi and Tal who could have done with some more characterization considering their importance to the plot. The romance is underdeveloped on both parts (for one of them, imagine August and Emma from Once Upon A Time hooking up ugh), too, but I am hoping that will be rectified in the next book?
Overall, a well-written fantasy, but the imbalance in the two narratives takes a bit of fun out of it.
Is it diverse? Eliana is biracial, like Audric, and is bisexual. There are also hints of bisexuality in other characters throughout the book, though for Rielle it seems a throwaway line so I can't be sure.
Received an advance reader copy in exchange for a fair review from Sourcebooks Fire, via Edelweiss.
Buy links