Hey it's Halloween! And aptly, I have a Halloween themed tag for today. I found this on Hexen Librarian, but it was originally created by Anthony.
Witch | A magical character or book

Werewolf | The perfect book to read at night
Frankenstein | A book that truly shocked you
The Devil | A Dark, evil character
Grim Reaper | A character that should never have died
Zombie | A book that made you hungry for more

Gargoyle | A character that you would protect at all costs
Adam from
Vampire | A book that sucked the life out of you
Ghost | A book that still haunts you
Demon | A book that really scared you
Skeleton | A character you have a bone to pick with
That Ice king from
Mummy | A book you would preserve throughout time
Creepy Doll | A cover too scary to look at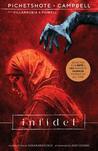 ---
Feel free to tag yourself!