Top Ten Tuesday: Most Memorable Secondary Characters
Top Ten Tuesday is a weekly meme hosted by The Broke and the Bookish wherein each week bloggers list out their Top Ten. This week's list is for the Top Ten Most Memorable Secondary Characters. Secondary characters contribute immensely to the storyline, as the sidekicks, best friends or in some cases nemesis. So here are my most memorable secondary characters (listed in no particular order):
1. Fred and George Weasley from the Harry Potter series
Perhaps the best example of awesome secondary characters is the Weasley twins – who delivered the comic relief for 7 books! Besides their pranks and their iconic fireworks show at the OWLs in The Order of the Phoenix, these two brothers are the coolest ever – even if they didn't always help Ron, they did help Harry. The most mischievous duo had also stolen the Marauder's Map from Filch's office (gasp!) in their first year itself but selflessly gave it away to Harry in the Prisoner of Azkaban. The world mourned when they were separated eternally in the last book. Nevertheless, the Weasley Twins will forever be remembered for their antics and their discoveries – which gave a lot of support to the plot.
2. Alice Cullen from Twilight series
This pixie-haired clairvoyant vampire was actually my favorite character from the series – forget Bella, Edward or Jacob. She is perky, vivacious and stylish and that 'looking into the future whenever she wants' is so cool. She has a kind heart and was one of the first to befriend Bella – even though she could see two futures for her. A best friend and sister to Bella, a mischievous little sister to Edward and an understanding wife to Jasper – she is great at each role.
3. Magnus Bane from The Mortal Instruments and The Infernal Devices
The flamboyant and stylish High Warlock of Brooklyn certainly requires no introduction but he does deserve one – he is one to break social conventions and rules, is laidback and not one to stir the pot. Being immortal, he has had his share of lovers through the centuries (does anyone really know exactly how old is he?) but he is most shipped as Malec, a cute pairing between him, a warlock and Alec Lightwood, a Shadowhunter – which is basically a taboo for the Clave. Even so, their love is so sweet and you actually feel for Magnus, who has had to watch so many of his lovers slip away because of their mortality. If you have been following the Bane Chronicles, you know he is quick to fall in love and considers eternity a gift that weighs permanently on his soul. He may seem like a party boy but he has a heart of gold and in Infernal Devices, you realise that despite everything, he is lonely with this immortality of his. One of the three characters (so far) that crossover between the series, he is so essential to the plot of both.
4. Jackal from The Blood of Eden series
A very ambiguous char
acter in the first book with almost darker shades, Jackal is the blood brother of Allie, since both of them were sired by Kanan. In the first book, all we know is that he might be a sort of nemesis for Allie considering she attacked his den/party but in the second book, The Eternity Cure, when they band together to find Kanan, their brother-sister banter is hilarious at times. Moreover, since Allie doesn't trust him completely and always snarks at him, his pushing her buttons is quite entertaining. Towards the end, it feels like he may be betraying her, but thankfully he comes through. I certainly liked this vampire with grey shades – he isn't morally sound like Allie but has his own code of ethics.
5. Bananach from The Wicked Lovely series
Bananach is the one of the first faeries in existence – the faery of Chaos and War. She is half-crazed and bloodthirsty, and fierce and basically is the trigger for most of the events from book 3. She is sister to Sorcha, of the High Court and Order, and her complete opposite in every regard. Where Sorcha seeks to keep Order and peace, Bananach is bent on Disorder and War. Even so, as a character, I was impressed by how well she was written. She has that magnetic quality – in fact, I have been itching to draw her since I have completed the series  but have been nowhere complete yet. Even though evil, she is quite badass and not afraid of any other faery. She competes for the allegiance of Devlin, her brother-son with Sorcha and it quite interesting how her machinations drive the story.
6. Bliss Llewellyn from The Blue Bloods series
This leggy redhead was the most interesting character for me in the Blue Bloods series -her character development had way more depth and her love life more drama than that of the main characters – Sky and Jack. I was absolutely devastated when Dylan died but Wolf Pact reinstated my faith in Melissa de la Cruz. The most amazing fact was that with all that she was presented – being a daughter of Lucifer and his meatsuit for possession, and then becoming human and having to go in search of the wolves that guarded the Passages of Time – she becomes such a strong person. Undoubtedly, I liked her more than Sky.
7. Barnabas from Madison Avery series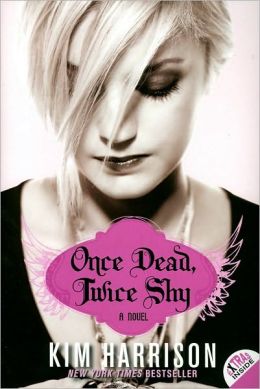 Barnabas is the guardian angel/teacher for Madison in the this exciting reaper-based series. He is a light reaper and fights to protect Madison – the Dark Timekeeper. He was first introduced in Madison Avery and the Dim Reaper story in Prom Nights from Hell, where he reluctantly gains the guardianship of Madison Avery just because she was attacked on her 17th birthday. Though irritated at having to guard her, he soon becomes one of her fiercest supporters. In Something Wicked This Way Comes, he goes as far as shifting away from the light spectrum (better to read the books to understand what I just said) because of his support for her. I wouldn't be lying if I said I really expected some sparks between the two of them  – but they were platonic throughout the series. Sigh! And he was so dreamy too – I would be welcome to have him as my guardian angel.
8. Roar from Under the Never Sky
Another secondary character that I love more than the main characters – Roar was an absolute delight to read about. In fact, if Perry weren't there, I would totally be Team Roar. He is like the perfect boyfriend and you feel so sad for him when Liv dies. The thing is, with main characters, you know pretty much how their love story might end, but with secondary characters, all bets are off and I think that unpredictability is more alluring than the story arc of the main characters.
9. John Breed from Beautiful Creatures
Okay, all you Team Ethan people must be hating on John Breed but I loved him from the first scene – the classic bad boy. Oh, I am Team Ethan and was (a little) sad when Lena runs off with John but hey, you gotta admit, that boy is sexy as hell. Without him, we also wouldn't have the Linkubus. Also, his and Liv's romance – it just is so cute and when he decides to sacrifice himself, so heart-breaking. But it all ended well, and that's what I am happy about.
10. Hector Delos from Starcrossed
Okay, he kinda reminds me of Emmett from Twilight – because his chemistry with Helen is totally reminiscent of that between Emmett and Bella. He is the caring big brother who doesn't hesitate to beat you up during training and also have jokes at your expense. Him finally finding love in Goddess was the cherry on the cake for me.
Now, of course, this list had many more contenders since I like the supporting characters of a book as much as main characters, but since this is a Top Ten list, I really had to limit myself. I would like to include Uncle Mort from the Croak Trilogy by Gina Damico because he is the coolest uncle ever.
Posted on August 27, 2013, in Top Ten and tagged alice cullen, bananach, barnabas, beautiful creatures, bliss llewellyn, blood of eden, blue bloods, book meme, discord, faery, fred, george, harry potter, hector delos, infernal devices, jackal, john breed, madrigal, magnus bane, mortal instruments, once dead, reaper, roar, secondary characters, starcrossed, top ten tuesday, twice shy, twilight, under the never sky, vampire, war, weasley, wicked lovely, wolf pact. Bookmark the permalink. 1 Comment.